Hello Friends !
I've finally started a new world, after a lot of thought over what type of world I should create.. ( i must admit I was a little scared of starting a world - after all, I didn't think I had much creativity for that.... but here I start..!)
First of all, a few points about this world, what it does, how to use it.. who its for:
- it is for everyone to use
- it should help beginners and wannabe artists, as they can receive some advice here, and improve their skills...
- it is open to expert artists, who want to help freshmen colleagues at art, by giving their valuable advice...
- links to websites which help answer people's questions will be posted here..
There, those are the few basic points to start off with.... hopefully, I hope this goes as planned..
By the way, Art teachers visiting this blog are most welcome...!
and one more thing - I found many people criticizing newbies' art as "copied", "not original"... and I have to say I see the point behind this statement... but, after thinking about this problem, I thought - hey, people start by imitating, and only later can they create stuff... (and this is the case with people in every area of life)...
So, in this blog, anyone can try to redraw work done by others and get proper advice, etc... so they can improve.... of course, the point behind doing this is to help people until, they can start drawing on their own...
But, original thinking is really appreciated, and it is highly recommended that people try original art here !
Therefore, I hope no one will have problems redrawing others' work here - just as long as it helps people get better...!
By the way, anyone wanting to post useful stuff in this world, can PM me, and I will allow them access to the world !

So, here goes !
Here's an amazing piece of art I found on Deviant art - it is very inspiring, and truly depicts the spirit of art - as its title says "Art is a Creation" (by j00nk1m110 )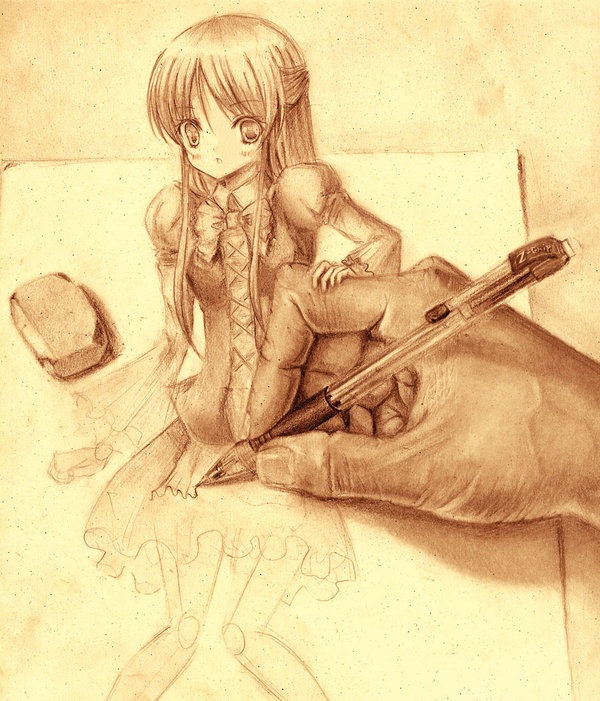 The current guest posters at this world ( who are instrumental in developing this world) are:
Moka
vampireBride
LGA775
meruchan
Brunette
luluseason
15385bic
yugistotallycute
kathy100
reirei18
MangaKid
LystikinenaXP
Seifer sama
Ajan 1
Blaze023
dragonseiryuka
ichi haze
kawaiiMisuzu
Variance
Code Geass CC
pandaman08
Ikemarth
omnia1
superstarpanou
silvershriek