WATCH LATEST NARUTO SHIPPUDEN EPISODE 111
FOLLOW THIS LINK
UK Anime Box Set Releases: Berserk, Gravitation & Daphne
Daphne In The Brilliant Blue: Complete Collection (6 discs) RRP £49.99 06/07/2009
Gravitation: Box Set (4 discs) RRP £39.99 03/08/2009
Berserk: Box Set (6 discs) RRP £49.99 07/09/2009
EDIT: The following single volume releases have been dated for release as well:
Slayers Try Volume #1 RRP £15.99 07/09/2009
Solty Rei Volume #4 RRP £15.99 07/09/2009
Samurai Deeper KYO #2 RRP £15.99 07/09/2009
Digital Manga Publishing (DMP) has announced that the first 25 pages of Osamu Tezuka's Swallowing the Earth manga is now available for free browsing at the TezukaInEnglish.com website (via the TezukaEnFrancais website). Originally published from April 1968 to July 1969 in Shogakukan's Big Comic magazine, the manga is one of first stories that this pioneering creator aimed explicitly at an older audience. The main character of this tale, Zephyrus, is rumored to be a woman of such beauty that everyone who sees her immediately falls in love. Zephyrus is bent on exacting revenge on men around the world for the sins of the entire male gender, until she meets a drunkard named Gohonmatsu Seki who may undermine her plans.
DMP will release the manga in one English-language volume in North America next month. Dark Horse Comics, Vertical, and Viz Media have all also released Tezuka's manga in North America. IMAGI's computer-animated film adaptation of the Astro Boy manga is slated to open in North America on October 23.
Each episode of 2009 "renewed" airing has been posted in Japanese since April
The Kadokawa Group has begun streaming the eighth episode in this year's "renewed" airing of The Melancholy of Haruhi Suzumiya anime series on the YouTube website earlier this week. This episode, "Sasa no Ha Rhapsody" ("Bamboo Leaf Rhapsody"), was the first episode that did not air during the original 2006 run. Kadokawa has been streaming each episode in Japanese one week after its broadcast since last month.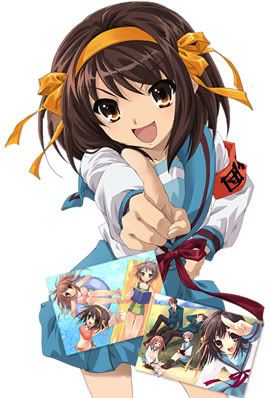 The team behind the Kōtetsu no Vendetta (Iron Vendetta) military robot project announced in a Saturday blog entry that production on project's first full anime episode has been green-lit. To celebrate the announcement, the project's creator Thumbnail posted a new 59-second promotional video on the Nico Nico Douga video website. (An earlier, two-minute promotional video was posted on the YouTube website in December.) The creators aim to finish the episode next year.
The project began with a still "picture drama" short, which eventually evolved into a partially animated pilot film. The dōjin (self-published) creators sold a preview DVD at Tokyo's Comic Market 75 convention last December, and will distribute a new release at this summer's Comic Market 76.