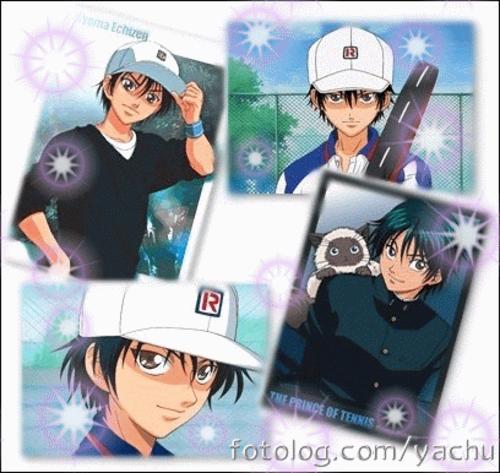 Ryoma is a first year student at Seishun Academy ('Seigaku'), which he attends immediately after his arrival in Japan after formerly residing in the United States. Although only a first year in middle school, Ryoma had already earned notoriety through winning four consecutive titles in the American Junior Tennis tournaments – all in a little over a year. Due to his nearly invincible tennis play, Ryoma has earned the label 'prodigy' by the age of twelve. His looks and confidence make him highly popular with ladies, although he seems not to notice, having his focus exclusively on tennis.
He is an all-court tennis player with many special shots and abilities. One of Ryoma's greatest talents is his ability to learn new techniques after only seeing them performed a few times. He also has an amazing amount of stamina and does not sweat as much as the other players. Along with fellow Seigaku regular Eiji Kikumaru, Ryoma is known to have an exceptional talent for seeing moving objects. He does not go easy on himself and pushes himself more, rather than letting himself rest. He is specifically a singles player, though he did try doubles once with teammate Takeshi Momoshiro. After seeing how bad he was at doubles, Coach Ryuzaki usually placed him in the S3 (Singles 3) or S2 (Singles 2) position. When captain Kunimitsu Tezuka goes away for rehabilitation for his arm, Ryoma and teammate Shusuke Fuji take turns for the S1 (Singles 1) position. In the Nationals, Ryoma often found himself placed in the S1 position nearly every match.
Although he is left-handed, his famous Twist Serve is only effective when delivered from the dominant hand of his opponents (i.e. he uses his right hand when serving against right-handed players). He occasionally plays tennis with his right hand as either a handicap for weaker opponents or a way to test his opponent's abilities. When the need for returning at a difficult angle or distance arises, Ryoma also incorporates the use of "nitōryū", or ambidexterity.
In the anime, when all the tennis teams of Japan competed for a spot in the roster to play America in the Goodwill games, everyone was sure Echizen would get a spot. However, Tezuka (who acted as coach when Ryuzaki was hospitalized) saw that Echizen's attitude had become more arrogant since he defeated Sanada of Rikkaidai in the regional championship. Therefore, Tezuka chose to have Echizen as the reserve player, but kept in secret to see if he would change. When Echizen sees America's Kevin Smith – who had been wanting to challenge him – defeat Yamabuki's Jin Akutsu using his destructive tennis form, Echizen had a change of heart and begged Tezuka to be on the team; Tezuka revealed Echizen's spot, making him the third member of Seigaku to compete (along with Fuji and Kikumaru). Although Rikkaidai's Akaya Kirihara played Smith in the final match, Kirihara injured himself, and the "special rule" was invoked to have Echizen finish the match, which resulted in his victory and a new found friendship with Smith.
In the manga, Ryoma goes with his team to the Nationals. In the anime, he is chosen as a wildcard for the U.S. Open and goes to it, eventually beating Lleyton Hewitt in the finals. He comes back in the OVA, and although he says he wouldn't participate with Seigaku, vice captain Shuichiro Oishi goads him into a match to take over his spot as a regular, which Ryoma does (Oishi did this because his arm was still injured and felt it would be a burden to still be on the team). Re-earning his spot, Ryoma leads the team to their first national victory. He returns to America afterwards, thus his future with Seigaku is unknown. In Takeshi Konomi's sequel Ryoma is shown in America but returns to Japan for another tennis tournament with Seigaku.
Ryoma also demonstrates prowess in other sports, such as bowling, table tennis, and billiards. His abilities in beach volleyball, however, may be questioned. When the Seigaku students go to the beach during the anime series, Ryoma plays well when paired with Kaidoh. However, he plays quite poorly in the OVA when paired with Tezuka. In the same event in the manga, Ryoma, paired with Rokkaku's Kentaro Aoi, plays decently only after activating Muga no Kyōchi. It is possible however, that the second time, they were using a beach ball, which was too light for any tennis related moves.
His catchphrase in the Japanese anime is "mada mada dane," literally meaning "no, not yet" or "not good enough." During matches against the American Team, he used the phrase in English in which he said "You still have lots more to work on". In the English-dubbed version, it is translated as "You still have a ways to go."
His favorite subject is Science, but having been brought up in the United States, Ryoma is fluent in English, which his classmates admire him for. He is also the object of admiration of his own fan club in school, which is led by Tomoka Osakada. However, he does not care about girls at this point in his life, due to solely focusing on tennis. His favorite color is silver although he is always seen wearing a red shirt and a red racket. His favorite racket is Bridgestone Dynabeam Grandea. In the manga, he is shown wearing Fila shoes, cap, wristband and shirt; in the anime, his hat has a "R" symbol on it. Ryoma is frequently seen drinking Fanta (Ponta in the anime).
In the Prince of Tennis movie Futari no Samurai, Ryoma supposedly has an older brother named Ryoga Echizen, but the latter is later revealed to simply be a child that Nanjiro took in a few years ago.
~~PERSONALITY of my PRINCE SOON~~