Nov 18 – Site Update - Posted By Adam

Review: The Collected Works of Hayao Miyazaki
The Collected Works of Hayao Miyazaki is a new Blu-ray box set that contains all 11 of the famed Studio Ghibli director's films. It also includes four TV episodes that he directed. This collection is the most hyped anime release of the holidays and is available exclusively on Amazon.
What Kind of Value Does This Collection Offer?
The Collected Works doesn't come cheap at $215. If you're wondering how much of a discount or premium that is compared to buying each Miyazaki Blu-ray separately, I've priced it out:
Howl's Moving Castle: $13
My Neighbor Totoro: $13
Princess Mononoke: $22
Nausicaa of the Valley of the Wind: $17
Kiki's Delivery Service: $22
Ponyo: $26
Spirited Away: $22
Lupin III: $15
Porco Rosso: $24
Castle in the Sky: $30
The Wind Rises: $22
Total: $226
On a cost-per-movie basis, it's a wash. While the set is $10 less than buying 11 separate discs, you are committing yourself into buying them all at once. This means that the packaging has to be good enough to warrant that upfront investment.
The Unboxing Experience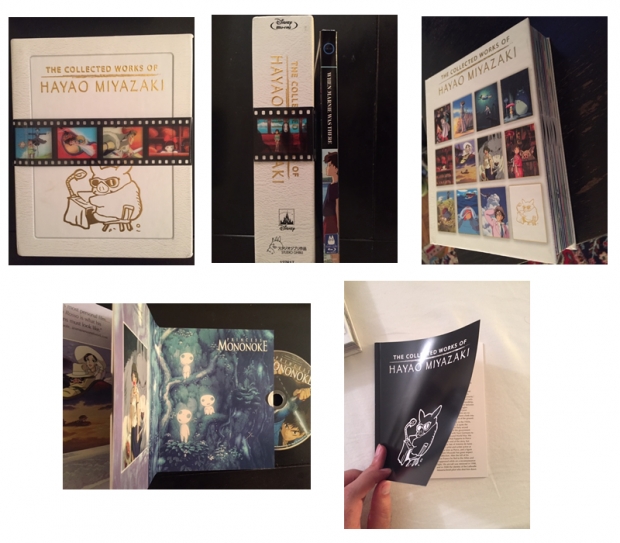 I was surprised by the box set's tiny footprint. It's the width of four DVD cases. If you're looking for loud and eye-catching, you'll be disappointed. If you're looking for understated beauty: Here you go.
Wrapped around the box is a unique filmstrip that displays iconic scenes from each of Miyazaki's films. This filmstrip is my favorite part of the package because it makes the collection stand out from everything else on my shelf.
Slip off the filmstrip and you'll pull out a hardcover children's storybook. Each page has an illustration from one of Miyazaki's films. Each page is also a cardboard sleeve for that film's Blu-ray. Clever! Holding a tiny children's book that contains Hayao Miyazaki's entire filmography is almost magical.
Accompanying the storybook is a thin black booklet. This booklet is a letdown. For the price, I was expecting a coffee table art book. Instead I got what looks like an old-fashioned disposable video game manual. It contains an academic essay about the collection that will put most readers to sleep.
Missed Opportunities:
As a lifelong Hayao Miyazaki fan, I can't help but see missed opportunities and wish for a grander package.
I wish that the accompanying booklet was more substantial. I wish that the collection included Miyazaki's Ghibli Museum short films, which would have been killer. I wish that there was a limited edition figurine. I wish that the storybook case had more pages devoted to each film. And I ultimately wish that this was a Studio Ghibli collection, instead of just a Miyazaki collection.
Am I wishing for too much? Maybe. But 11 positively epic movies deserve a more epic presentation.
The Final Verdict:
The Collected Works of Hayao Miyazaki would sit fine on any collector's display shelf. It doesn't take up much room, has a clever storybook case and is surrounded by an elegant filmstrip wrapper. Just keep in mind that it's not really a centerpiece item. This is a box set that has a little bit of magic, but that's a shame because the movies inside it pack a whole lot more.