Mar 29 – Site Update - Posted By Adam

theO Review: From Up On Poppy Hill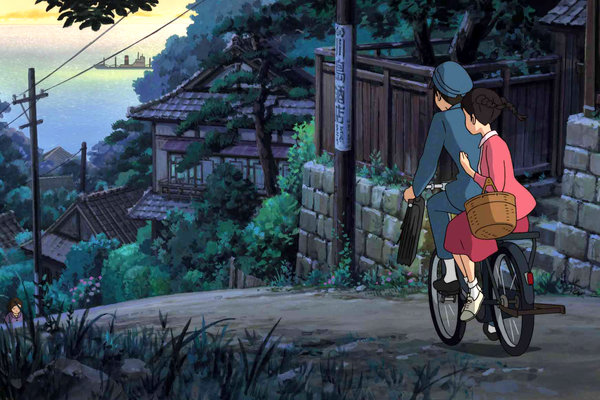 Every morning Umi Matsuzaka dutifully raises the flags outside her grandmother's house, which sits on a tall hill that overlooks the sea. The flags are a memorial to her father's sunken naval ship. Meanwhile, at Umi's high school, bureaucrats are deciding the fate of an old, dusty clubhouse. The board wants to replace it with a modern building but many students disagree. In the background, Japan races to modernize Tokyo in time for the 1964 Olympics, substituting puffing chimneys for trees along the landscape. Remembering the past is a major theme in Studio Ghibli's From Up On Poppy Hill.
Despite being sixteen, Umi acts as the mother of her household. Her real mom is studying abroad in America so it's up to Umi to manage the chores, run errands, keep her quirky sisters in line and tend to grandma. This is in addition to school and her studies, which keep her up long after the rest of the household is asleep. Life for Umi is frantic, routine and filled with a longing for the past, until one day, a boy named Shun literally and figuratively drops from the sky and into her life.
Shun's eyes beam with confidence. He's an officer of the Latin club and is the editor of a school newsletter. He's also a leading, outspoken figure in the charge to keep the clubhouse intact. Shun and Umi become fast friends and soon Shun is giving Umi a tour of the clubhouse.
The clubhouse in Poppy Hill is grand in scale and reminiscent of the bath house in Spirited Away. Every nook hides a secret and every room houses a different club. An explosion rocks one floor as the chemistry club finishes an experiment. The next floor is quiet as the lone philosophy club member sits in his cluttered tent, hoping someone will stop by. The whole building is filthy but full of the same charm you might find in an old library. Nothing in Poppy Hill is supernatural but the clubhouse comes closest.
Umi and Shun quickly fall in love. But then life gets complicated with a soap opera-like plot twist. "It's like a bad melodrama," Shun says at one point. I wouldn't go that far, but the twist did feel forced and nonsensical.
From Up On Poppy Hill is a period piece with a sentimental and nostalgic tone. Every few scenes there's a chuckle to lighten the mood. The laughs are always corny and formulaic, but they're necessary since the movie would have taken itself too seriously without them. I expected the movie to delve much deeper into its theme about the past but the treatment was simplistic and superficial. Painting the film's conflicts as more than black-and-white would have gone a long way toward remedying this.
Ghibli's animation is supremely confident. Characters move with a natural ease that makes watching even the most mundane activities a pleasure. Shun's bike smoothly glides through town. The movement is neither stylized nor choppy. The background textures of the film are also excellent, realistic but muted just enough to complement the Ghibli character designs. A side note: if someone offers to give you a bike ride down Poppy Hill, always wear a helmet.
Poppy Hill is a different sort of Ghibli film. Its wide-eyed political undertones are an interesting departure but the movie misses the unbridled imagination of its siblings and is cheesy and forced in too many places. I also wish it better explored its themes, which are setup well but progress simplistically. Despite these complaints, I still enjoyed my time on Poppy Hill. There was also a character, introduced at the very end, who was enormously entertaining.
From Up On Poppy Hill is the second film directed by Goro Miyazaki, whose first was one of Studio Ghibli's rare disappointments (disasters?). He's grown a lot since then, aided by experience and a famous father, who served as writer. While Goro still isn't there yet as a Ghibli-calibre director his progress is still rather watchable.
theO Score: 7/10
I saw From Up On Poppy Hill at an indie movie theater (IFC) in NYC.