Dec 23 – Site Update - Posted By Adam

Anime News of the Week (12/17 - 12/23)
Detective Conan As Propaganda
Chinese Channel CCTV-13 criticized Shinzo Abe, the recently elected Prime Minister of Japan, by using Detective Conan: The Phantom of Baker Street footage in a piece about Abe and his roots in a long established political family. The scene features a ballroom filled with the children of the Japanese elite and describes the "politics of inheritance which has led to humans repeating [their] mistakes in history." As of Wednesday, Conan studio TMS Entertainment has yet to comment. Link
First Look at Live-Action xxxHolic
Premium channel WOWOW updated its website with the first image of the live-action drama adaptation of xxxHolic, featuring its stars Shota Sometani and Anne in costume as Kimihiro Watanuki and Yuuko Ichihara. The show premiers February 24, 2013. Link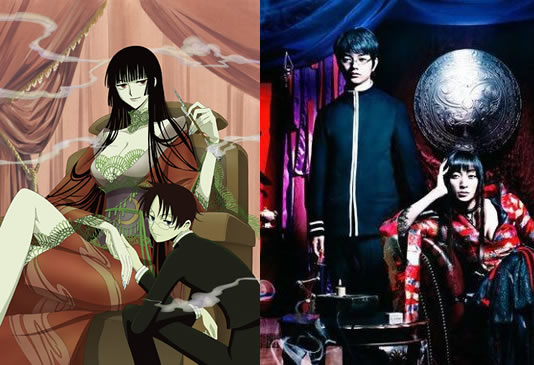 Black Lagoon Manga Hiatus Ends
The Black Lagoon manga has been on hiatus since 2010. Not anymore, says Shogakukan's Sunday GX magazine. Expect new work from mangaka Rei Hiroe on January 19, 2013. Link
Samuel L. Jackson Returns to Anime
Actor Samuel L. Jackson will be heading to Johannesburg for a live-action film adaptation of the gritty crime anime Kite once he's finished work on the RoboCop remake in January. Jackson previously worked on the Afro Samurai franchise. Link
Good Night, Sweet Vampiric Prince
Next Wednesday, after six years in the making, the final episode in the Hellsing Ultimate OVA saga airs. The 67-minute special, Hellsing X, will deliver the final blows in the war between Hellsing and Millennium for control of Europe, with the mighty Alucard in the middle of the heat of the battle. Who will win? Who will sacrifice their lives? What will the future hold? Find out all of these answers and more in the most epic of conclusions.
Gurren Lagann Director Returns with New Anime
Hiroyuki Imaishi, known for directing such spazfests as Dead Leaves, Gurren Lagann, and Panty and Stocking with Garterbelt, revealed his newest project on the AnimeBancho YouTube channel. From his new studio, Studio Trigger, comes the anime Inferno Cop, the story of a messenger from hell tasked with arresting demons that haunt the shadows.
Tite Kubo Has Married Privately
Bleach mangaka and known recluse Tite Kubo quietly announced his recent marriage to an unknown woman at the Shonen Jump convention Jump Festa. He did not elaborate on his statement despite being pressed by fans.
Anime Releases
Fullmetal Alchemist: The Movies (Conqueror of Shamballa/Sacred Star of Milos Double Pack) Blu-Ray (UK Release)
Legend of Heroes: Complete Collection DVD and Blu-Ray (English)
One Piece Season 4 Part 3 DVD (English)
Kurozuka - The Complete Series DVD (English)
Ultraviolet Code 044 – The Complete Series DVD (English)
Viper's Creed – The Complete Series DVD (English)
Manga Releases
Dorohedoro
HeroMan
Message to Adolf
Tengo Tenge
Vagabond