Dec 31 – Site Update - Posted By SomeGuy

Caption Battle: Waving In The New Year...
"It's that time again..."
"To ride ze shoopuf?"
"To get stuff resolved?"
"No... it's time for this year's final (or the new year's first) caption battle!"
But first, last-last week's winners:
In third place, for boundless enthusiasm: FaithlessFighter!
BY THE POWER OF KAWAII DESU
In second place, because some poses have been forever codified: Dranzerstorm!
Without the point glasses and the cloak that pose just doesn't work.
And in the coveted first place, because it just tickled me just right... Akki Neko!
Hummy: See, I told you I'd be taller than you at this angle...the rest of the show must be shot from this angle, ok?
And for the record, all of this round's captions are extra funny because you can imagine them being quoted by theO's SunfallE. Just sayin'.
Alright, let's do this! This week's caption battle comes courtesy of Hisaishi and features the series Samurai Champloo. From left to right you have Mugen, Fuu, and Jin. Happy hunting: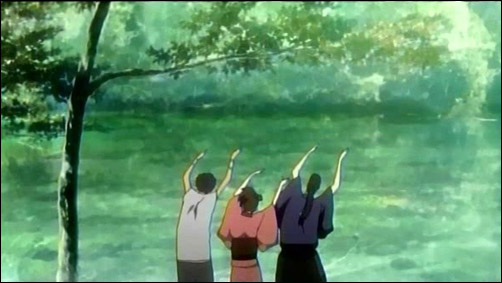 You know the drill: type up the funniest, wittiest, most original caption you can think of for the screencap above in the comments below. Also, if any of you would like some tips on writing a great caption, you can find those here.
And like always, theOtaku is open to all submissions and suggestions for weekly feature content. You have a screencap you want used, you can PM me and we can do somethin' about it. So good luck, and remember: give an animal a tasty enough name and you can eat anything.